Kevin Pubesalad Crawford is the main character of Paradise PD. He is the son of Chief Randall Crawford and the newest member of the police force. He is a confident, albeit clumsy cop, who, despite his mistakes, is putting in his best efforts to be a civil servant and is easily the only morally ethical member of the force. He is voiced by David Herman.
Biography
Birth & Infancy
Kevin Crawford was born as the only child to Karen and Randall Crawford in the year 1999. In "Flip the Vote", Karen mentioned that she was only pregnant with Kevin for six months. After that, she demanded a C-section and sent Kevin's still developing fetus to stay in the NICU (Neonatal Intensive Care Unit) for the remainder of his trimester. During this time, Karen would occasionally stop by once a week to visit him. Due to Kevin's corrupted birth, he was born with a slight birth defect of having translucent eyelids. Another bodily defect Kevin was born with was two superfluous toes on his left foot, as seen in "Fetal Attraction".
According to an exchange of dialogue in "Operation DD", it was mentioned that Randall and Karen never gave Kevin a middle name because when they tried to register a middle name for him, it was rejected by the court for being a racial slur. The exact middle name the couple tried to enchristen him with was never mentioned in the episode but as said before, it was most certainly an ethnic slur.
On December 31st, 1999, Kevin kept his mom up all night with his screaming and crying. While Karen tried to change his diaper, he peed on her shirt. Karen tried to ask Randall for help but he was too busy celebrating the turn of the new millennium by jizzing into an ice tray to do anything to help his wife.
Childhood
As narrated in "Welcome to Paradise", ever since childhood, Kevin was wanted to be a police officer, just like his father. For a while, Randall was fully supportive of him becoming a cop, and did everything he could to support his dream. Randall would even take Kevin with him to work when busting criminals to show him how it was done. This left an impression of Kevin as he would pick up the habit of beating up his toys and cussing at them, the same way his father did, pretending they were bad guys. Karen did not approve of Kevin's swearing or the fact that she heard it from Randall and would wash both of their mouths out with soap because of this. This, however, was a punishment they both took on the chin, as they knew it was all just a part of being cops.
One fateful day in 2005, 5-year-old Kevin found Randall's police gun in the pocket of his discarded uniform. He took the gun into Randall's bedroom, while he were having sex with his wife. Kevin excitedly showed his dad how good he was with holding a gun. Kevin playfully pretended to shoot the gun, but accidentally pulled the trigger, sending a bullet straight into Randall's exposed testicle. Kevin flipped, as he watched Randall drop from the bed, screaming in horrified agony as he gripped his blood-gushing testicle. Under all Kevin's regret, was some confusion, as he could have sworn he had the safety on. Stupidly, Kevin tried to switch the gun to "safety mode", but ended up shooting it again, this time exploding Randall's other testicle. Ever since this pivotal incident in history, Randall refused to let his son become a cop.
In "Operation DD", one of Kevin's early childhood memories was of him witnessing his parents making fun of him, while they finalized their divorce. Kevin heard his mom and dad giving Kevin full blame for their divorce and saying extremely hurtful things about him, mostly along the lines of how they wished he was never born. This brought Kevin to tears and scarred him for life, given how he still remembered the events of that moment vividly, at the time that episode took place, in the year 2020.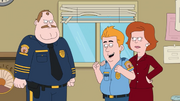 When Kevin was 18 years old, he was able to meet the requirements for working at Paradise Police Department. Randall was still against letting him onto the team, still not trusting him, after the destruction of his testicles. Despite his disapproval, Kevin was still allowed on the team, as his mother, Karen, who was now the mayor of Paradise and had the political power to do that. At this time, Karen and Randall had long been divorced and Karen, who believed in Kevin's capability of becoming a cop, and Karen gave Kevin this job both out of spite for her ex-husband and out of love for her son. On Kevin's first day, Randall gave him the unfulfilling duty of crossing guard. At the time, the distribution of Argyle Meth was a major problem that swept Paradise and Randall was so hell-bent on discovering the busting the leader of this commerce, that he wanted everybody, even Kevin, to get to the bottom of the case.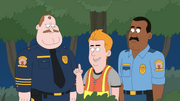 As the newest member of the team, Kevin was the most qualified to do an undercover search of Paradise VHS, where he suspected some argyle meth sellers would be, based on some research he did. He'd eventually come to find that the store owners, Robby and Delbert were in fact, in charge of creating and selling argyle meth. He arrested them and interrogated them for information on the leader of the crime business. He got the name, "Terry Two-Toes" from them, but still didn't earn any more respect from Randall, partly because Kevin wasted all their bullets. Shortly after this little incident, Kevin was let go from the police force, as per Karen's request. Karen had changed her mind about letting him join the squad, as she worried for his safety and didn't believe he could handle a job as dangerous as being a cop. Kevin was understandably hurt by this and exhibited major frustration when this befell him.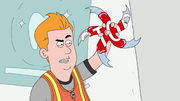 Despite being fired from his job, when Kevin heard that his mother had been kidnapped by Dr. Dinkle, he knew it was the right thing to intervene and try to save her life, as his mom would certainly be destroyed if he didn't. Kevin sent a distress call to Hopson and the whole police force got right on it. Kevin wanted to contribute but Randall refused to let him, still seeing him as unworthy. In the fight against Dr. Dinkle (who would turn out to be Terry Two-Toes), Kevin had the finishing blow when he threw a shredded stopsign at him and sliced his hand off, getting him promptly arrested and thrown in jail. Karen was set free and the day was saved. After that brave act of heroism, Kevin was rehired and got to continue working for Paradise P.D. All of this happened in "Welcome to Paradise".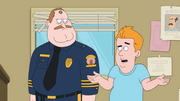 In "Ass on the Line", the cops discovered that Terry Two-Toes had been shot dead in his prison cell and the security footage had gone missing. Along with the corpse, there was a clearly forged suicide note, saying that he had shot himself and destroyed the tape. Kevin found this awfully suspicious and felt the need to look deeper into this. However, Randall decided he liked the answer he was given and decided to close the case and leave it alone. He also urger Kevin to leave the case alone, not just because he thought it was solved but also because he still believed Kevin to be incompetent and didn't want him to screw things up.
Despite his father's wishes, Kevin continued to investigate the argyle meth case in "Black & Blue". Upon seeing how the argyle meth business was still booming on the streets of Paradise, Kevin came to the conclusion that Terry Two-Toes was not the kingpin.
In "Karla", the depths of Kevin's nerdiness and lousiness with women was explored when he went on a date with a girl and took her to a Carbortion Wrex tournament. His date was obviously not happy with the venue as it was loud, unpleasant, disgusting, and as far from romantic as could be. The last straw was when Robby vomited on her skirt, which prompted her to demand Kevin take her home. Kevin took her home in his cheap jalopy of a police car, which was another huge turn-off for his date. Kevin said that the force wouldn't give him an actual car so this was the best he got. As soon as Kevin "sounded the siren" by having Hobo Cop shove his hand up a cat's butt, Kevin's date had had enough and barrel-rolled out of the car.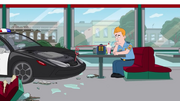 Kevin went to his mom and asked her to use her mayoral powers to force Randall to get him an actual police car, as he believed the only reason for girls not liking him was because he didn't have a fancy car. Karen made Randall get him a high-tech police car called Karla 9000, who was an AI with the ability to talk. Kevin instantly started to love Karla 9000 but instead of using her to make girls love him, he instead ended up falling in love with the car. Karla apparently had the ability to feel human emotions such as love and so the two became boyfriend and girlfriend and went on dates together. Unlike Kevin's human dates, Karla actually liked all of Kevin's nerdy and stupid hobbies and the two got along very well.
Karen did not approve of Kevin dating a car, until Anton notified her that the town is very pro-interspecies romance and her son's relationship with his car helped her uptick in the polls for diversity reasons, which magically make Karen change her mind.
Kevin's relationship with Karla soon turned south when Karla ended up being an abusive, domineering, oilaholic, who needed to know where her boyfriend was at all times and would physically abuse him if he ever ignored her. Fitz encouraged Kevin to leave this relationship but Karen refused to let him leave due to how good their relationship looked for her.
Kevin tried going out for a drive in his original car just to get away from Karla but Karla found him and kidnapped him inside of herself and destroyed his original car with a missile. Karla drove Kevin to Lover's Cliff, where she planned on driving over the edge to kill herself along with him, so they'd be united forever in Hell but when they drove over the edge, they were stopped by Carborion Wrex catching them in his mouth. Carbotion Wrex was piloted by Karen, who had a change of heart. Kevin got back to safety and Karen used Carbotion Wrex to fight Karla off, only for Carbortion Wrex to start operating on its own, so it could have sex with Karla, making her fall in love with him instead. Kevin had successfully left his abusive relationship but he was still stuck with the nickname "Car Fucker" for the rest of his life.
In "Dungeons & Dragnet", Kevin was shown to be a die-hard nerd, who played Dungeons & Dragons with children and occasionally LARPed with them as well. He went by the alternate persona, "Merkin the Mage", not knowing that "Merkin" was a real word, let alone what it meant. He played Dungeons & Dragons in the basement with a bunch of children. Randall was against Kevin being a D&D player because he didn't want him to be a nerd.
In "Meet the Jabowskis", in the absence of Gina, Kevin was ordered to drive his police car around town with a hooker dressed as her. The disguise worked and he was able to get criminal to listen to him for a while but then the hooker died, he had trouble making her seem threatening. He tried to use the hooker's corpse as a marionette puppet but then Robby and Delbert shot it down and noticed it was a corpse. They thought they killed her and then went to take over Paradise.
In "Police Academy", Kevin found out he never actually graduated from a real police academy, making him unqualified to be a cop. He went to Robby and Delbert's police academy and got a fake diploma, which he presented to Patty Mae. It took her two seconds to find out this diploma was fake and called in Randall to tell him that his son was unqualified for being a cop and after doing some research, she also found out that he was unqualified for being a cop. Because of this, they both got sent back to Diamond City Police Academy, where they were forced to train and become real cops.
Kevin and Randall trained with Dean Hancock as their teacher. Kevin did a very good job at completing all the tasks with flying colors, while Randall failed miserably. Kevin quickly became Hancock's favorite student and got to sit with him and the other successful students at the cool kids' table, while Randall was treated like shit. Kevin eventually graduated, while Randall failed and Hancock offered to give Kevin a job, working at Diamond City P.D. but Kevin refused as he wanted to stay with his father at Paradise P.D. He was also mad at Hancock for abusing his father so he got revenge on him by showing everyone a sex tape of him making love with his wife, which backfired as it only made Hancock feel proud.
In "Task Force", Kevin started a task force with Prop Cop, Handi-Cop, Ronny, and Donny. Because Randall couldn't be bothered to solve the argyle meth case himself, Kevin took it upon himself and his task force to study it instead. They went to The Happy Trail Circus, where they assumed people were selling argyle meth and took Fitz with them as he took a liking to Prop Cop. This ended up being a fatal mission as it got the entire task force killed and put Fitz into a coma. Kevin was so mad at himself for putting his friend in a coma that he decided to quit the police force altogether.
In "Parent Trap", the now unemployed Kevin spent his time visiting Fitz in the hospital every day to keep him company. Kevin would apologize for getting him into a coma in the first place and hope against hope that he'd someday wake up. In the meantime, Kevin would keep Fitz happy with stories of what's going on in the world to keep him up to date as well as some old-timey negro spiritual songs for entertainment, not knowing that Fitz couldn't hear him because he was deep into his well of unconsciousness. So deep, that he was living in a mental world.
Kevin tried many plans and schemed to reunite his parents with several love gifts but none of them were working on them. Kevin heard that Karen and Randall were both ultra-conservative lunatics, who believed Tucker Carlson, when he said that Gypsies were taking over the world. Kevin capitalized on this fear by turning his house into an Anti-Gypsy Safehouse so that Karen and Randall would stay there to hide from the Gypsies and get back together again. At first, all Karen and Randall did was fight but after Kevin disguised Hobo Cop as a Gypsy to attack Karen, in hopes that Randall would save her and prove his love, Randall ended up passing out in terror, while Karen saved him, proving her love and they fell back in love with each other again.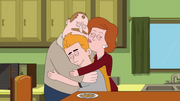 With his parents reunited, Kevin was finally happy again, albeit kind of disgusted with how much he was being exposed to the kinky sex they were having around the house. Eventually, Randall and Karen decided that now that they were back together, it was time for Kevin to move out of the house. Kevin didn't want to do this at first but he eventually came around to it, after Hobo Cop gave him a place to stay underneath his highway.
While camping out with Hobo Cop under his highway, Kevin found some security footage in Hobo Cop's shopping cart, Betty that showed what happened on the day of Terry Two-Toes' death, which revealed that his shooter was one of the cops at Paradise P.D. Kevin swore that he would find who among them was the killer.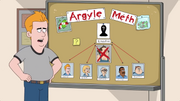 In "Christmas in Paradise", Kevin started an investigation to see which of the Paradise cops was the killer but didn't include Bullet for some reason. He was quick to rule out himself, being 90% certain he wasn't running the argyle meth corporation and then he ruled out Fitz because the argyle meth corporation was still going on even while he was in a coma, so his next logical step was to assume it was his father because of how vehement he was to deny anything suspicious happened when Terry died. When Kevin got on his father's case, Randall was offended that he would even suggest it was him and kicked him out of his office. Although he didn't yet rule out his father, Kevin looked for his next target and he made Gina his next prime example to investigate.
Having recently been kicked out, Kevin asked if he could stay with with Gina and she let him sleep on the couch, using a used body bag as a blanket. After Gina went to sleep, Kevin snuck into her secret room, where she had cameras hooked up in Dusty's Apartment. He looked at the footage of what happened on September 25th, 2018 to see what Dusty was doing. At the exact time of Terry's murder, Dusty was laying down on the floor of his house, butt-naked and getting tongue-bathed by all his cats, which included Gina, who was dressed up as a cat, which cleared both of their names.
Kevin went back to the hospital to update Fitz on what he did and saw Hopson there, knocking over his police billboard and demanding that Kevin stay out of the Terry Two-Toes murder case. He even held him at gunpoint and threatened to kill him if he investigated any further. Naturally, Kevin made Hopson his new primary suspect. Hopson was going to be at the Paradise P.D. Christmas party and Kevin needed to go to investigate him but because Kevin was no longer employed, he had to be the plus one of Gerald Fitzgerald, meaning that he took Fitz's comatose body to the party with him just to get in. Kevin looked around the party and saw Hopson giving him the stink-eye before mysteriously disappearing behind Karen, Randall, and Fitz's comatose body doing the coma.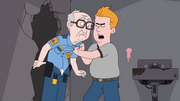 Kevin tracked Hopson down to a public bathroom, where he saw him getting payed by a sleazy looking guy. Kevin assumed this was an argyle meth drug trade so he broke into the bathroom and asked for "the goods", posing as the buyer, to get a mouthful of dick. Kevin ripped Hopson through the wall and demanded answers. Hopson said that he wasn't a drug dealer. He was just exchanging sexual favors with gay men for money. Kevin saw this as enough to clear his name and went back to investigating his dad.
Kevin went back to the hospital to update Fitz again and discovered a burner phone behind his bed, which was receiving a call from the kingpin. Kevin answered it and pretended to be Robby. He heard that the kingpin planned on meeting him at the abandoned Christmas tree factory at midnight and Kevin told him in Robby's voice that he'd be there. This pretty much gave Kevin the impression that this was his dad, as he'd cleared everyone else's names already (except Bullet).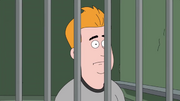 Kevin rummaged around in Randall's office and was caught when Randall came in. Randall arrested Kevin and locked him in the P.D. holding cell, telling him this is his punishment for repeatedly defying his orders to stop investigating the argyle meth case. Kevin knew this basically meant that Randall was guilty so he called up Dusty, (because Randall didn't bother to confiscate his phone due to him being in a rush at the time), and told him that he needed him to go to the abandoned Christmas tree factory at midnight, so he could catch the kingpin in the act. Meanwhile, Hobo Cop helped Kevin escape by entering the prison cell through a hidden hole in the wall and telling Kevin to get out through it.
It was already getting really close to midnight so Kevin raced against the clock to the Christmas tree factory and passed by the Christmas Tree Lightning, where Randall caught him and demanded he go back to jail. Kevin pointed a gun at Randall and demanded that he spill the beans about what he was doing on the night of Terry's murder but Randall confessed to something completely different; he was actually working at a strip club that night, due to him running out of testosterone patches and growing boobs. The reason Hopson was trying to stop Kevin from finding out is because he had sex with Randall that night as well. This meant that Kevin had no idea who Dusty was about to meet in the Christmas tree factory.
Meanwhile, at the Christmas tree factory, Dusty awaited the arrival of the kingpin, who turned out to be Santa Claus, explaining why the argyle meth was red, white, and green. Dusty got into a hand-to-hand brawl with Santa Claus and long story short, Dusty shanked him to death with a candy cane causing Santa's corpse to turn into Christmas magic and disappear, leaving behind only his bag of meth. When Kevin and Randall came in, all they saw was Dusty standing right where the kingpin was intended to be, claiming that Santa Claus was the real criminal and having no evidence. This immediately led to Dusty getting framed for being the argyle meth kingpin and getting arrested by the FBI. Kevin stood there, confused, not understanding how Dusty could have been the kingpin if he cleared his name but Randall told him not to worry about it and congratulated him on his good work, finally being proud of his son for once.
Kevin's final appearance in the season was going back to the hospital once more to tell Fitz that while he was happy happy for many reasons; his father being proud of his, his parents getting back together, and the argyle meth kingpin finally being put behind bars, he was still sad that his friend was in a coma. Kevin was uncertain if Fitz would even wake up but he wished him the best as he left for the night. After Kevin left, Fitz started to move, revealing that he was faking the coma all along. He made a call on his phone, saying that his plan to frame his second-in-command argyle meth worker, Santa Claus, as the kingpin worked better than expected as now Santa had been killed and Dusty had been framed. However, he still had one more plan left before all bases were covered. Because Kevin was the only one who still had the sneaking suspicion that Dusty was innocent, Fitz needed to make sure he didn't investigate anymore, so he made his upcoming goal to kill Kevin Crawford.
Appearance
Kevin is an 18-year-old young adult Caucasian male with strawberry blond hair that he wears in a slicked up mullet. He has a bean-shaped head with a pronounced chin and is slightly pudgy. His work attire is the typical Paradise P.D. uniform; A light blue police jacket, a white undershirt, dark blue pants, and black shoes, as well as a golden police badge with the name of the police department on it and also the puckering butthole company logo on the shoulder of his sleeve. His casual attire is a tucked in gray t-shirt with a black collar and black sleeve trims, navy blue jeans, black and white tennis shoes, and a brown belt with a golden buckle.
Deformities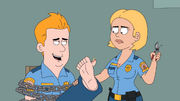 Due to his mother's carelessness, while pregnant with him, Kevin suffers from a number physical deviations and body deformities. In "Flip the Vote", it was revealed that Kevin has translucent eyelids with skin that didn't fully develop in the womb. In "Fetal Attraction", it was revealed that he has seven toes on his right foot. One of which is a very rancid, jagged, monster claw-type toe, that sticks off the side of his sesamoid area. However, both of these superfluous toes were later dismembered by Gina in the same episode.
The most notable and prominently mentioned of all his deformities would have to be his penis. Kevin's penis, as mentioned in "Ice Ice Babies" and seen in "What Happens in Twatemala", is an asymmetrical, off-balance gland, that's less than four inches and littered with red bumps that could be anything from pimples to acne. His penis is unnaturally broad at the head and narrow at the base. Kevin suffers from peyronie's disease, which gives his penis an abnormal 90 degree curvature.
For the first 21 years of his life, Kevin was uncircumcised and his foreskin was still in tact. However, upon his conversion to Judaism in "Top Cops", Kevin got a botched circumcision, courtesy of Frank Flipperfist, who accidentally sliced the entire glans of his penis off. Although he was able to get his penis reassembled, this still left behind a 90% dorsal slit, permanently mutilating his already fucked up cock.
Personality
Kevin is a delightfully dim-witted guy, who aspires to be a cop, but thanks to his idiocy and clumsiness, he has a habit of messing things up occasionally (but he's arguably only the third-worst cop, with Dusty and Stanley being the very worst). Most notably, was when he shot his dad in the testicles and destroyed them, as seen in "Welcome to Paradise". Kevin swears that this was a mistake he would not make as an adult but given how trigger-happy he was when shooting up Paradise VHS over a popcorn machine, it's not likely this is the truth.
Despite frequently failing at everything he does, Kevin always keeps up the good work and never loses hope and at the end of every episode, he always pulls through and proves to be a good cop, by solving some kind of important case. Indeed, he is shown to be smarter and far more committed to his job than his dad. In the height of the argyle meth case, Kevin was more determined to get to the bottom of things, while his dad chose to leave it alone, being satisfied with the answer he had in the beginning. as he constantly has shown his hidden talents throughout the season. He was also described by Fitz as the smartest member of the department and the biggest threat in "Christmas in Paradise". He also has keen insight and great detective skills that impress even his father.
Morality
Kevin is notably the only member of the police force that doesn't have a long record of crime and corruption. While all six other cops have a history of excessive force, murder, rape, theft, vandalism, racial profiling, corruption, etc., Kevin has managed to keep his head above it all and not do anything that would label him a villain or even so much as an anti-hero. Most of Kevin's wrongdoings are only done out of his own folly and stupidity, (i.e. falsely arresting Dusty in "Christmas in Paradise" and flashing a child in "Ice Ice Babies") and in all instances of him fucking up, Kevin honestly confesses to his mistakes and suffers the consequences of his actions, even if he knows it's going to be bad. The biggest example of this would be in "Paradise Found", when Kevin was hailed as a national hero for arresting Dusty but willfully gave that all up in favor of setting Dusty free, by revealing evidence to the public that cleared his name. Even though Kevin went from being a messiah to a pariah with a new national holiday dedicated to insulting him, he rode out the societal shunning and family abuse, knowing that he did the right thing for somebody else.
Nerdiness
Kevin is rather nerdy and geeky, spending lots of his spare time watching anime, reading comic books, and playing with action figures. He is a regular customer of Die Alone Comics, grouping himself in with tons of filthy basement dwellers such as Zithole, which just goes to show the extent of the guy's nerdiness.
One of his primary hobbies is playing Dungeons & Dragons with a group of children who are really only around two thirds his age, among whom, he is seen as somewhat of a wise and prophetic figure. Kevin's D&D character is a troll named Merkin the Mage. Kevin thought he made up the name himself but was unaware that "merkin" was a real word, let alone what it meant.
Taking his commitment to nerd culture into account, Kevin is miserably bad with women and always strikes out in the dating pool, as seen in "Karla", when he brought a girl on a horrible date to a Carbortion Wrex tournament. In "Operation DD", Kevin made a talking vagina deteriorate just by talking about the greatness of My Hero Academia, as he was unable to please it sexually. Despite his constant failures with women, Kevin's D&D friends still idolize him as a cassanova, who gets all the ladies.
Religion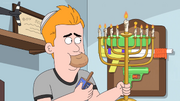 For the first two seasons of the show, religion didn't really play a big role in Kevin's life and it was unlikely he even followed a faith of any kind, with his mother being a non-praciticing Christian and his father being an uninformed atheist who didn't know the difference between Jesus and Satan. Neither of his parents taught him about religion and it didn't really play a significant role in his life at all.
In "Dungeons & Dragnet", Kevin and his D&D clan combatted the Paradise Pentecostal Church, when Preacher Paul tried to confiscate, ban, and incinerate all of the Dungeons & Dragons games in Paradise. However, Kevin stayed pretty neutral in the religious aspect of this argument and really only made it his goal to prove to the church that D&D was not Satanic.
Kevin's secular lifestyle came to an end in "Top Cops", when he was forced to convert to Judaism by his father, so that he could win a contest. Randall gave Kevin a quick lesson in the religion, put him through all the steps to converting, and even got him circumcised. Although this sort of happened against his will, Kevin got quickly committed to his newfound faith and even started acting like a real Jew. Kevin began studying very hard to get into both law and medical school to impress his mother, refused to work on the Shabbat, and was legally considered a minority due to his religion, making Randall technically commit a hate crime, when he beat him up for his faith.
Kevin's Judaism was more than a one-episode fad, as it was further referenced in future episodes, such as "Trigger Warnings", when he told some Jehovah's Witnesses that he was Jewish this season, "Blind Drunk", when he was given the day off from work because of a Jewish holiday, (though it was never made clear which holiday this was), and "PARAD-ISIS", when Kevin wore his yarmulke for his wedding with Gina and also partook in the Jewish wedding tradition of shouting "FUCK YOU PEOPLE!" to his entire family and all of his friends just before the wedding.
Relationships
Family
Co-Workers
Friends
Enemies
Robby and Delbert - Kevin is on-and-off frenemies with Robby and Delbert. Most of the time when they interact, Kevin is arresting the duo for the crimes they commit. However, there have been many times when Robby and Delbert have been nice to Kevin and acted like friends to him. In "Parent Trap", Robby and Delbert turned on the argye meth kingpin and gave Kevin the company burner phone and gave him information on their former company. Kevin also helped them by recording a sex tape for them.
Mrs. Two-Toes - In "Welcome to Paradise", Kevin kindly interviewed Mrs. Two-Toes about Terry Two-Toes, so that he could arrest him but Mrs. Two-Toes whipped out a chainsaw and attempted to kill him, infuriated that he would dare come into her house and ask her to help him arrest her own son. Kevin blocked her chainsaw with a stopsign and then found a ceramic chicken to knock her out cold with.
The Kingpin - Kevin despises The Chicago Kingpin for taking over the mind of his friend Fitz and turning him evil. It's clear that Kevin knows the difference between Fitz and The Kingpin, as even when Fitz was acting evil, he knew that deep down, there was some good in him and that "The Kingpin" wasn't his true self. Every bad this Kevin did to Fitz at this time, only exhibited how he felt about The Kingpin. In "Operation DD", Kevin helped Fitz defeat The Kingpin by reminding him that because they were inside of Fitz's mind, he was in full control over everything.
Love Interests
Trivia
In "Welcome to Paradise", Kevin mentioned he was 18 years old. In "Parent Trap" it was revealed that the events of this episode took place on the exact date of September 25th, 2018, as was written on a security tape, which recorded the murder of Terry Two-Toes at the end of the episode. In "Ice Ice Babies", we saw that Kevin was a baby during the events of Y2K. This means that Kevin was born in the year 1999.
In the same episode, it was learned that aside from being a cop, Kevin also has a talent for metal fabrication, as he took a metal shop course in college and got an "A".
Kevin has yet to lose his virginity to a human woman, but over the course of the series, Kevin has done a ton of obscure sexual things such as making love with a car in public, as seen in "Karla", using a watermelon as a love doll, as seen in "Dungeons & Dragnet", publicly masturbating in front of an exhibit full of chimpanzees (and a human baby), as seen in "Big Ball Energy", and having sex with a tube sock while her "twin sister" (the other sock) watched, as seen in "The Father, The Son, and The Post-It Note".
As learned in "Dungeons & Dragnet", Kevin plays Dungeons & Dragons and goes by the alias of "Merkin the Mage". However, he doesn't seem to know that "Merkin" is actually a real word, which is used to describe a woman's pubic wig.
In "Paradise Found", Kevin fell in love with Gina Jabowski, when the latter saved his life.
In "Big Ball Energy", Kevin is part of an online incel community called "I'm Too Pathetic to Get in There".
In "Who Ate Wally's Waffles?", it was learned that despite being 18 years old, Kevin can't defecate without his mom helping him, the same way she did when he was a toddler. To this day, Karen still assists Kevin with defecating by sitting him down on a choo choo train shaped potty chair called The Boom Boom Station, singing him the song, The Poo Poo Choo Choo to help him defecate, and rewarding him with a cookie.

Kevin leaves work at exactly 9:37 every day so he can go potty at home so that the other cops don't know about it and usually comes up with an excuse for why he's leaving, mainly along the lines of "I need to mail a letter".
In "PARAD-ISIS", Karen told Gina that since she was marrying Kevin, she was officially passing the touch to her and teaching her how to deal with Kevin's regular potty time.

Kevin didn't have a middle name for the first 18 years of his life because his parents wanted to make his middle name a racial slur. In "Operation DD", Randall decided to make his middle name "Pubesalad", (pronounced: "Poo-beh-suh-lawd"), naming him after his grandfather, "Pubesalad Crawford".
In "Operation DD", it was revealed that Kevin was a fan of My Hero Academia and considered it to be the greatest anime of the new Japanese renaissance.
In "Top Cops", Kevin converted to Judaism.
As seen on a Twitter post by the official Paradise PD crew, Kevin is a fan of the trending CW teen drama, Riverdale.
As a teenager and the only member of Paradise P.D. to be born in the 90's, Kevin is the youngest member of the force, with the oldest being Hopson.
He is the PD counterpart of Steve Williams of Brickleberry, with them both being delightfully retarded goof-up heroes, who she the same voice actor, archetype, and character models.

There are some key differences, however; Steve is an egotistical talent-less and worthless idiot who can't do anything right, while Kevin is actually capable of doing his job (and is more likeable). Steve is prone to committing heinous acts of villainy, such as murder, theft, and rape, while Kevin is more pure and has a cleaner record. Also, Kevin is much less overweight and much younger than Steve, with Kevin being 21 and Steve being 32.
Gallery